Skin Peels
Our chemical skin peels for men and women are extremely popular with those looking for skin rejuvenation. As the skin is the largest organ in the body and is the one that works the hardest, it is tough, stretches and is waterproof and when treated carefully your skin is beautiful. The main factor for skin ageing is sun exposure so it is important to look after your skin to allow it to perform and keep you looking young and fresh.
Our range of chemical skin peels are medical grade peels and can only be carried out by trained doctors and nurses. They are not available in the high street and should not be confused with very mild and gentle glycolic peels available from beauty therapists.
What is a chemical skin peel?
A chemical skin peel is most commonly performed for cosmetic reasons, to enhance appearance and self-confidence. Chemical skin peel therapy may be performed in conjunction with other treatments. However a chemical skin peel is not a substitute for a facelift, and does not prevent or slow the ageing process.
View the different types of skin and facial peels available at Wrinkle Smoothing Ireland below;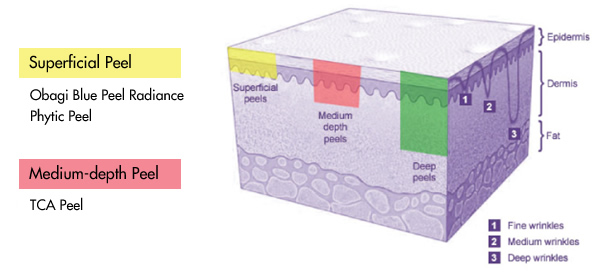 To book your appointment for a Facial Peel in Navan, County Meath, then please call Wrinkle Smoothing Ireland on 046 9021203 or send an email to info@wrinklesmoothingireland.ie.